Aromatic Cedar
Log Bed
Two weeks ago last Thursday I got home and Jana said she'd watched something cool on Oprah
[always brings a cringe]....something about "does this clutter make my butt look fat?" She went on to say how
many things she doesn't wear anymore and that she wanted to toss this stuff out fast. Not liking clutter, I said
cool and asked if she needed any help. Little did I know that asking this would bring on such a huge project.
She decided that our old bedroom furniture [including the queen-sized bed] had to go to make room for a king.
This I had been trying to get accomplished for many years....finally I thought! Once she told me about the
furniture I immediately asked what would replace it....she said she didn't need all that furniture since she didn't
have much left to put into the drawers. I sighed a bit of releif and then realized that the bed we were going to
buy had no frame. I suggested a log bed and she ran with it.
We took pics of the furniture and I listed it all on craigslist....it sold in 8 hours! We left for the furniture stores
here in Terrell and found an Italian leather couch, a somewhat matching recliner [for her not me...I like the
couch] and a pillowtop king sized bed...all for less than $1400! once we got all this home it was time to start
the bed frame. Having just finished the blanket chest, I wanted to make the bed
frame out of natural cedar logs and planks.
So off to Canton we went to buy aromatic cedar. This guy has many 1"x14"x12' boards that had already been
planed and they are gorgeous! I stocked up on 3 of those, another 18" wide board [unplaned] and several 'posts'.
I shaved off most of the knots fairly close and started cutting the heights. I sealed them with Boiled Linseed Oil
and followed with 7 coats of gloss poly.
Ever since the two tables got built for my friend I have been enamored by the look of 'natural edge' furniture.
I put this in quotes cause it's not really nature's work but mine. By this I mean the edges are not left square but
are cut with a jigsaw then rounded over with a 3/4" bit. Since cedar has wonderful color variations, the edges
become very interesting.
So here's the progress so far....most cedar log beds have only posts but I am spicing it up with the planks.
They will be mortised into the posts. I have to finish it before assembly as the thing will weight a ton and
will have to be assembled in the room. All the pieces now have poly coatings and I will be ready to start the
final sanding tonite. Assembly is 'scheduled for' next weekend.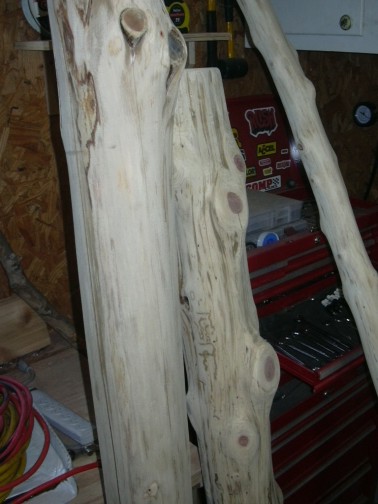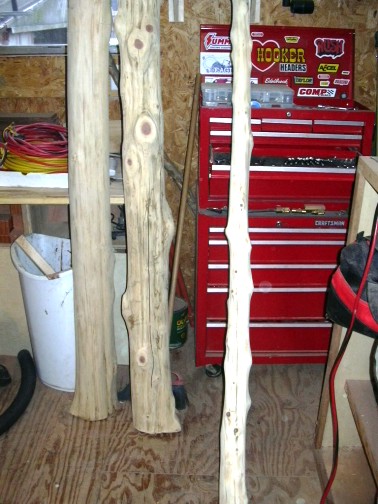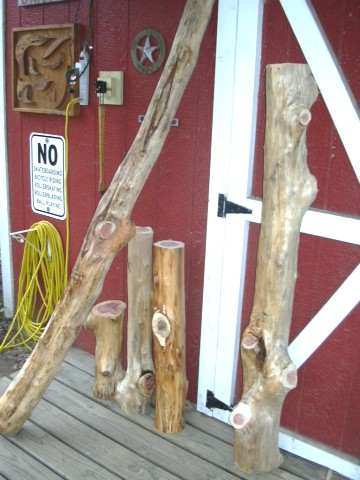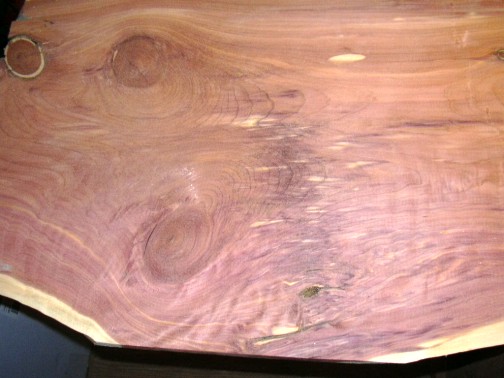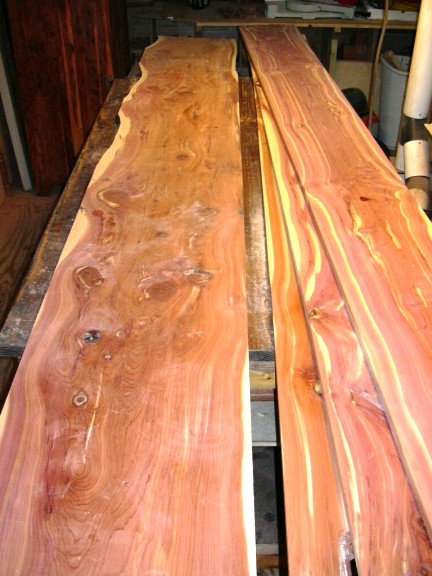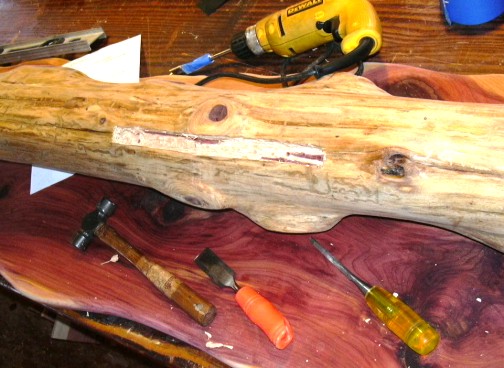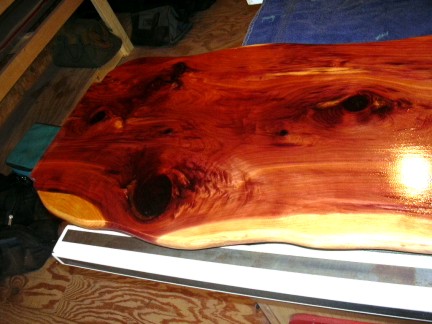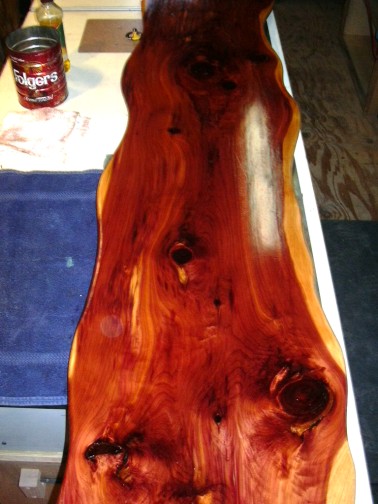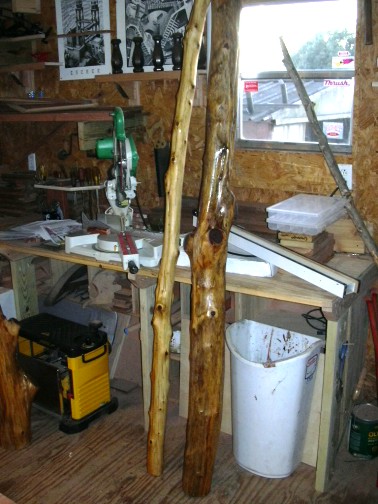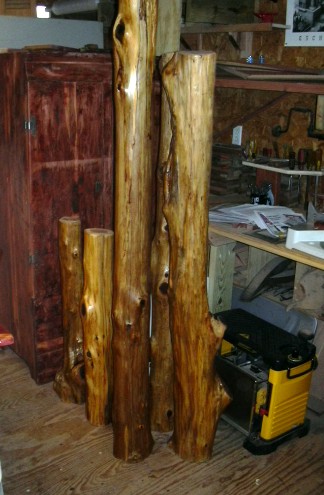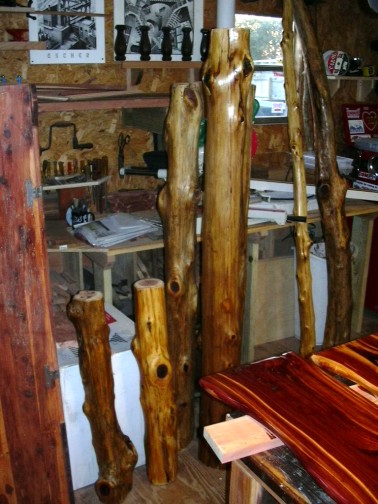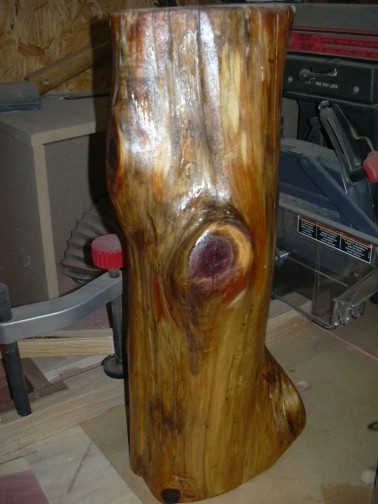 Here's what replaced the dresser...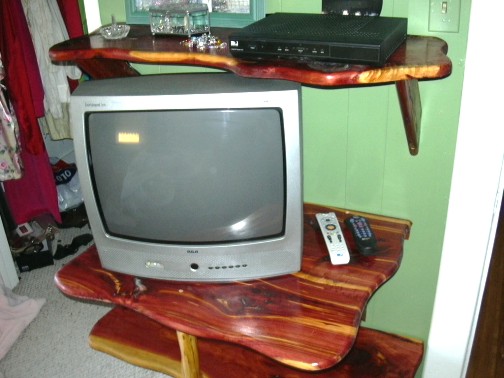 Looks like this style will bleed over into the rest of the house with at least one piece in each room.
My work is cut out for me now so there's no excuses for not being in the shop. I have four bookcases,
two china cabinets, a dining room table and a nightstand to build yet!